"My son Hunter rated the camp a 10 out of 10. Greatly appreciate all your efforts and this program!"
Sherean Malekzadeh, Parent

The Camp Flix curriculum has been developed over the years by a number of media educators, professionally active filmmakers, and other film industry professionals. We believe that learning how to share stories with others is at the heart of Camp Flix, and so every element, no matter how technical, is tied to the narrative. We also believe that filmmaking is one of the best ways to learn about the art of collaboration, and many of our students continue to make movies together well after the summer ends.
CAMP FLIX provides young filmmakers with the opportunity to explore the entire filmmaking creative process, including: screenwriting, acting, cinematography, lighting, sound design, editing, special FX and marketing. The camp provides them with the vocabulary, skills, and confidence to become part of the growing community of young filmmakers worldwide with the expert guidance of our award-winning industry professionals and instructors.
Camp Flix is designed for any young person interested in the filmmaking process, whether they love movies but have never made one or they're an experienced filmmaker hoping to build a stronger portfolio for college applications. First-year campers of all ages learn the basics of filmmaking while returning campers have access to more advanced courses and work on a larger project.
CAMP FLIX CURRICULUM OVERVIEW
Core Elements
No matter the level of experience, every level of the Camp Flix curriculum is organized around the three phases of the filmmaking creative process. All courses are taught by instructors with both industrial and educational experience to make the content as accessible and engaging for young filmmakers as possible.
Pre-Production
Pre-production planning will include developing a script, storyboarding, location scouting, set design and casting.
Production
Young filmmakers will work closely with seasoned professionals in specific crew positions, including Director, Cinematographer, Lighting and Sound Supervisor.
Post-Production
Young filmmakers will study and evaluate each shot and select the best takes based on camera work, composition, continuity, sound quality and other criteria. Student editors will work with professionals on the special effects, music.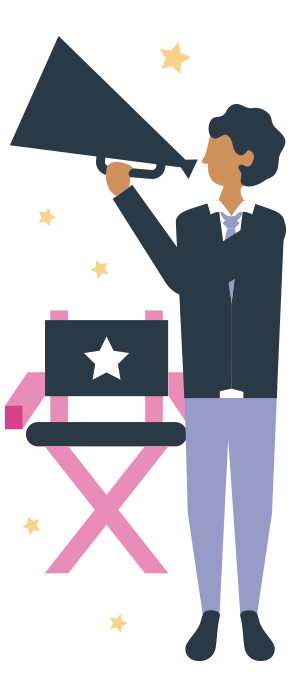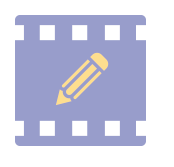 Screenwriting
It all begins with a story. The script is the single most essential element of the filmmaking process. Students will work with award-winning instructors to develop their ideas to the big screen.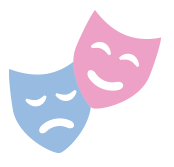 Acting For The Camera
Young actors will learn a mix of acting styles along with audition techniques and strategies and will appear in the films that our young filmmakers make.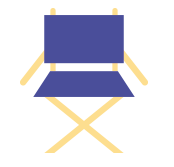 Directing For The Screen
The role of the director is demystified and made accessible to our students, who learn about the director's ability to form connections between cast and the crew as well as build understanding between the audience and the story.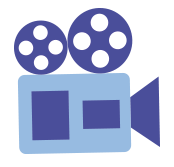 Camera
Students are introduced to both technical and creative elements of the camera. Our approach to teaching the camera is centered around its power for visual storytelling.
Lighting
Students learn the basic principles of cinematic lighting, from shooting outside with the sun to the use of professional lighting equipment.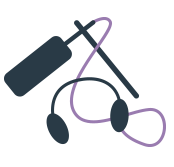 Sound
Sound separates the artists from the amateurs when it comes to filmmaking. Our students learn about recording and editing techniques for quality sound production and design.
Editing
Every student (yes, even our 11-year-olds) learn how to use Adobe Premiere, which is professional-grade editing software. Our lessons are designed to be accessible even to the youngest makers and leaving students feeling more confident about creating with technology.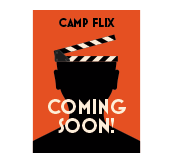 Marketing
Students learn about the importance of getting their films in front of audiences. They create posters and learn how to pitch their project to gain interest.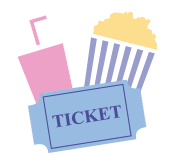 Screening
Learning to present your work is an important part of any creative process, especially one as collaborative as filmmaking! Walking the red carpet and talking to your peers and parents about your final film is one of the most rewarding parts of the whole experience.
Campers are taught by professional instructors with hands-on experience in various aspects of filmmaking along with some of the country's top college filmmakers. Students will eat, drink and breath moviemaking.

The pace of this one-week camp is feverish, and each student will play a major role in their team's production. Overnight campers will work on a second project, meet more filmmakers and film experts, see more movies, etc.

Campers learn about the essential elements of narrative filmmaking - the story. They watch and discuss short films before brainstorming their ideas for their final project. They outline their script and begin picking roles.

Lights, camera, and boom poles! Campers learn about the technical side of the filmmaking process, working with experienced instructors to learn the basics for effective video and audio recording. They work towards finishing their scripts and preparing for their shoot.

Filming Day! This is one of the most exciting days, where their stories come alive on camera. Campers work with their counselors to translate their script to the screen with all of their new filmmaking skills.

Film shoots continue. Teams watch dailies, select takes, and camper editors begin editing their films. Non-editors work together on developing marketing and social media plans to promote their film and work with professional designers to create a movie poster for their film. Special Guest Speaker scheduled.

Final edits are submitted and campers go to specialized classes in Stage Combat, Special Effects Make-Up, Visual Effects, and many more! In the evening, everyone walks the red carpet to see their final films on the BIG SCREEN!
Top 5 Reasons to Return to Camp Flix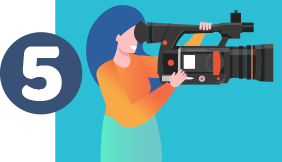 Returning campers have access to upgraded, more advanced equipment.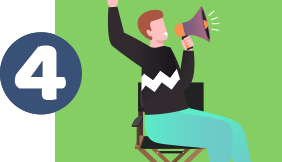 Returning campers work with our most seasoned, counselors and instructors, many of them already working in the content creation business.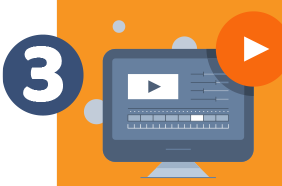 Returning campers have more opportunities for specialized classes and can hone in on the skills that most interest them. Returning campers will learn advanced techniques in cinematography, editing, visual effects and other rotating special topics. No repeat classes.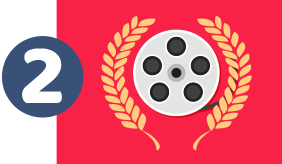 Returning campers get to make films of an extended length, giving them an opportunity to make a short film that can have a life beyond camp at film festivals and used for college submissions.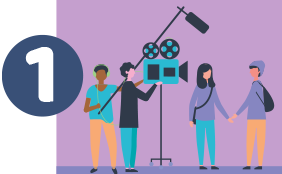 Returning campers can come back with friends from previous summers to form crews that last well beyond their time at Camp Flix. It also allows for pre-camp, pre-production work on their film so they can optimize their shoot and post production time at camp.
Students enrolled in Camp Flix will shoot on digital video cameras and learn to edit using Adobe Premiere digital editing software. Classrooms are equipped with state-of-the-art technology.